Crane Kit & Accessories
Load Cell with Overload Protection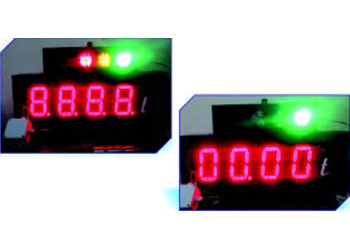 We are Manufacturer, Supplier and Exporter of Crane Kit & Accessories, Material Handling Equipments, Spares, Spare Parts, Accessories etc. and our setup is situated in Pune, Maharashtra, India.

We are also specialized in AMC Services ( Annual Maintenance Contract ), Modification, Upgradation, Repair Work, Servicing And Overhauling, Repairing Services, Crane Health Check Up, Crane Safety Certification Services etc. for all our product range.

Vtech Cranes is a new approach towards crane safe guard instrumentation. It senses and monitors the crane loading and automatically trips the UP motion under overload condition. The UP motion is restored automatically once the overload condition is removed

At a glance, the operator can find graphically the parameters of the machine connected to the system on his optional cabin or pendant graphical LCD Display also the large 5/10 inch high, 7 segments led display clearly displays the load lifted along with all error messages

The system can be configured, calibrated and operated from a distance by using radio linked remote control.

Avoid protect Incident and Accident ( humanlife, fineshed Valuable goods in Industries ) > Check Improve Break down time.

Avoide wear and tear of crane components / Increase Crane life.

Customize solution

---
Anti - Collision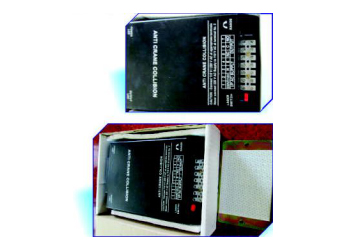 Vtech Cranes Anticollision system is a safety device to avoid the collision of two electric overhead travelling cranes working on the same rails.
The system works on the principle of retro-reflective infrared waves. It consists of an emitter and sensor module and a special reflector. The emitter emits the infrared waves in the direction of the reflector. The reflector reflects these infrared waves back to the sensor. The sensor senses the presence of these reflected infrared waves and activates an alarm signal and stops / reduces the speed of the crane. Thus if the two cranes are away from each other then the reflected waves will not reach the sensor and the cranes operate normally. The sensing distance is adjustable. The anti collision system is specially designed for the Crane application and is suitable for the continuous duty.
Each set consists of an Emitter / sensor module and a Reflector. For one pair of cranes two sets of anticollision systems are required.
Specifications
Supply Voltage
110 / 220V AC, 50 HZ
Output Contact rating range
Potential Free contact rated at 5 AMP at 230 V AC
Range
For KT 03-3mtr. Maximum, Minimum - 1.5 mtr.
For KT 10 - 10 mtr. Maximum, Minimum - 5.0mtr.
Indication
LED
Laser alignment Tool for alignment of reflector and control unit.
Operating temperature
Upto 70°C.
Sensitivity Adjustment
15% to 100%
Dimension
Control Unit - 190 x 145 x 50 mm for
Reflector - 130 x 75mm
---
Radio Remote Control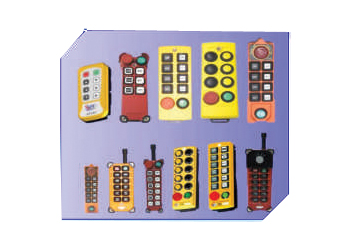 Enchances operator safety

Improves production efficiency

High maneuverability

Increases safety for plant & machinery

Unrestricted operator mobility

High safety standards & reliability

Microprocessor based technology
Suitable to operate smoothly crane

No Interference

No routine maintenance

Easy Installation

Light weight shock resistance transmitter

Low battery consumption

---
Pendant Push Button Station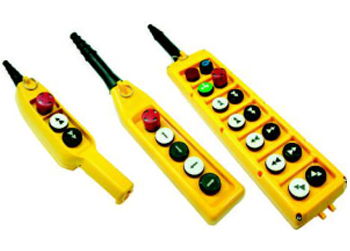 Features :
Light weight and User friendly
Quick and easy assembly
Adequate cabling space
Double insulated enclosure in thermoplastics material
IP - 65 rating as per EN 60529 Operating temperature - 25°C to + 70°C
---