Electric Chain Hoists
Conventional Chain Hoist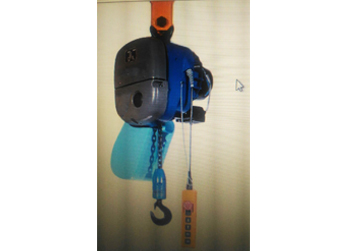 We are Manufacturer, Supplier and Exporter of Electric Chain Hoists, Conventional Chain Hoist, Modular Chain Hoist, Chain Hoists, Material Handling Equipments, Spares, Spare Parts, Accessories etc. and our setup is situated in Pune, Maharashtra, India.

We are also specialized in AMC Services ( Annual Maintenance Contract ), Modification, Upgradation, Repair Work, Servicing And Overhauling, Repairing Services, Crane Health Check Up, Crane Safety Certification Services etc. for all our product range.

Hoist motor squirrel cage single / dual wound 415 volts, 3 phase, 50 Hz, S4 duty with class 'F' insulation.

Hoist can be at a fixed location or move on with hand operated push - pull trolley, geared trolley or motorized trolley.

Electromagnetic DC fail - safe brake positively assists the load when the hoist is stopped or in the event of power failure.

All gears are alloy steel, high precision cut , mounted on antifriction ball bearings and runs in oil bath.

Overload friction clutch acts as emergency limit stop for the highest and lowest hook positions and protects against over loads.

Control voltage is 24 volts for safety.

Standard hoist chain is for 3 meters lift equipped with suitable chain collector, control panel, push button pendent with 2 meter long pendent cable. Additional lift also available at extra cost.

---
Modular Chain Hoist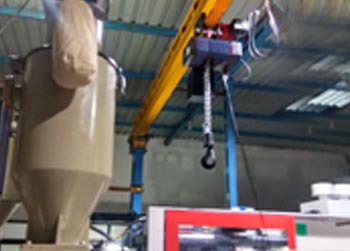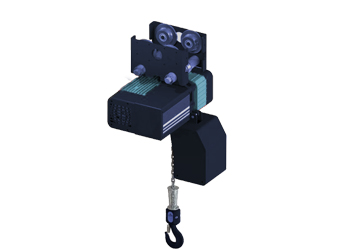 Integrated Motor & Drive unit for compact dimensions.

High capacity electromagnetic brakes for enhanced reliability and increase life.

Gear unit with case hardened ground helical gears with slipping clutch.

Oil bath lubrication results in a quiet, smooth, cool operation.

Precision machined and hardened chain sprocket to decrease chain wear.

High strength, corrosion and wear resistant load chain.

Speeds operations enable efficient and accurate load handling.

Dust and moisture protected as per IS 55.

Mechanical overload protection ( optional )