Double Girder EOT Cranes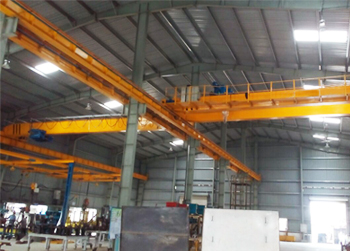 We are Manufacturer, Supplier and Exporter of Double Girder EOT Cranes, Material Transfer Trolleys, Material Handling Trolleys, Material Handling Equipments, Spares, Spare Parts, Accessories etc. and our setup is situated in Pune, Maharashtra, India. We are also specialized in AMC Services ( Annual Maintenance Contract ), Modification, Upgradation, Repair Work, Servicing And Overhauling, Repairing Services, Crane Health Check Up, Crane Safety Certification Services etc. for all our product range. Vtech Double girder cranes are designed as per IS 3177 / 807 or IS 4137 with latest technology comparable to any international standards. Reliability and easy maintainability coupled with dedicated after sales service are the hallmark of Vtech Cranes.
Latest crane controls are one of the main features of Vtech Cranes.
The combination of modern electronic control systems integrated with the crane control ensures improved safety for Men & Machine. Modern controls such as Variable Speed Drive, Radio Remote Control System, Anti-collision system provides highest levels of safety, productivity and lower maintenance cost. Special features such as Antisway system and Automation are provided on specific request.
Hoisting brake function ensures sufficient torque and avoids slippage during brake release.

Impact stop function.

Low load with high speed can be achieved.

Overload detection function.

Over torque detection function.

Over travel limit function.